Can you believe it? I'm writing another post already!
So I was looking at my previous posts and I realised that I have done posts on some of my favourite series, but I haven't written about a series that I have read about 4 times!
So I read the first book and really loved it. I didn't know that there was a second book and so I ended up reading the first book again. Within a month of reading it the first time!
After that I found out that there was a second, third
and
fourth book!
Imagine my glee! :D
It's by Lori Wick and the series is called: 'The Californians.'
If you read this, beware, there are major spoilers!
The first book is called: 'Whatever Tomorrow Brings.'
It's about the eldest girl of three children, they live in Hawaii with there missionary parents. On her twentieth birthday
Kaitlin's parents tell her they are all going to California to visit their aunt.
When they get there however they find out that visiting their aunt is not the main reason for this visit.
Heart break befalls them and after some discussion they decide to stay in California, however their father must first go back to Hawaii, to gather the rest of their things and let the missionaries there know that they won't be back.
They were to stay with there aunt, but something happens and they end up in Santa Rosa.
Kaitlin gets a job as a teacher, as she was one back in Hawaii. Her 14 year old brother Sean has to stay with the man who runs the general store in town, as there is not enough room in the small house rent. Sean ends up getting a job there, leading to Kaitlin and their little sister Marcail spending more time around the general store manager Rigg.
In the midst of difficulties and family turmoil, Kaitlin and Rigg manage to fall in love.








The Second book is: 'As Time Goes By.'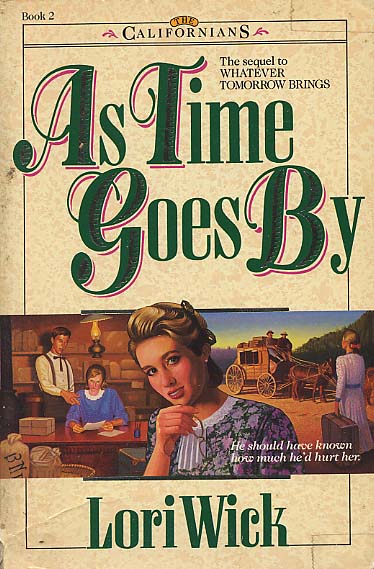 This one is about Rigg's half brother, 'Jeff.'
Jeff once hurt a girl from his school so deeply that she left town.
For FIVE YEARS!!!
When she comes back she ends up work with Jeff at his father's shipping depot.
They become good friends, but as she is considering a marriage proposal, it is nothing more than friends
hip. After Bo
bbie, (the girl he hurt) rejects the marriage proposal she was considering, things take a turn toward the romantic, but after an unplanned kiss, Jeff must work fast if he wants to keep the girl of his dreams.






The third book is: 'Sean Donovan.'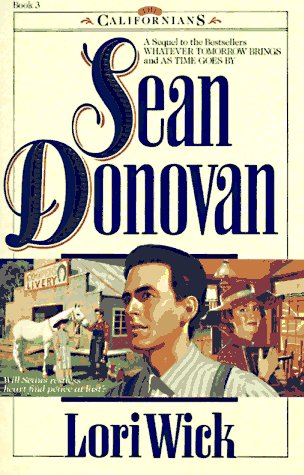 This story is about the second eldest Donovan child, Sean, (pronounced the same as Shaun).
Sean becomes bitter with the continued absence his father in Hawaii. He falls in with some bad friends and starts drinking. At age seventeen he takes his money and runs away from small town Santa Rosa and his family.
He tries some different jobs, but his last is as a bodyguard to a bank robber, he ends up assisting with a robbery and is caught. He is trialed and sentenced to be hung. But due to the sheriff's belief that inside he is a good man, an old law is found. That law leads to his marriage to Charlotte (Charlie) Cooper. She only marries him for his strength, given that she owns a livery and needs a new blacksmith. After a rocky start they get along well together and Sean who cam back to his faith in the jail cell, leads her to faith as well. In the end they start a new life with love and laughter and God.
The last book in the series is called: 'Donovan's Daughter.'
It's about the youngest in the Donovan family. She is very small and petite, and being the youngest she is treated like a child. She wants to make her mark on the world and become a teacher like her mother and sister. She becomes the teacher of a small town, pretty much run by a bitter old lady.
Due to a traumatic experience, muddied by time, Marcial has a terrible fear of doctors. So when a snow storm forces her to the doctor's home one dark night she is understandably frightened. But when the town learns that she spent the night at the doctor's home, pressure and a lack of students, force her to marry the town Dr.: Alex Montgomery. They have a strained relationship, with Marcial avoiding him at all turns, and Alex trying to make it work. After a time they become close, but Marcial still doesn't open up completely. Spending some time with both their families, it's Marcial's brother in-law that finally helps them talk to each other and make the marriage a love match.
I highly recommend them, they are all Christian romances, and they are very hard to put down!
Thanks for reading and sorry about the spoilers! :D